Advent of Europeans – Portuguese
On May 17th, 1498, Vascodagama discovered sea route to India and reached Calicut. He was received by Zamorin king of Calicut
Vasco Da  Gama
Background,
In 1486, Diaz a Portuguese sailor started exploring sea route. He started journey from Lisbon and reached end point of Africa and named it as cape of storms. But optimist Portuguese empire renamed as cape of good hopes.
In 1492, Columbus started his journey from Spain which was sponsored  by Spain king. He Calculated approximate 15,000 km distance to touch Eastern land, But he accidentally touched land(US) with journey of 5,000 km.
Later, Amerigo Vespucci a Italian sailor was sent to conform American Continent. He told new Continents were present in the Earth world(Western Side), so with his name we calls Continents as South America and North America.
Vasco da gama reached Madagascar from cape of good hopes and reached Calicut with the help of Gujarat merchant present in Madagascar, thus new sea route was discovered. This route is called cape route.
By Suez route, distance from from Europe to India is reduced by 10,000 km.
Zamorin, King of Calicut welcomed  Vasco da gama, he purchased Black peeper and sold in Vince's( Austria).
Portuguese were first to come India and last to leave India.
In 1500,a Portuguese company established to trade with India called as Estado Da India.
Some important Settlement of Portuguese in India
Kerala
Calicut
cochin
Cananoru
Maharashtra Coast 
Bombay
Salsetty
Bassein
Konkan Coast
Goa
Gujarat
Surat
Bhavanagar
Diu and Daman
Bengal
Hugli
Chittoganag
Satgoan
Governors of Portuguese 
First Governor, Francis De Almida (1504 – 09)
Second Governor, Albuquerque (1509 – 15)
In 1510, he conqurred Goa from Bijapur
In 1511, he Concluded a friendly treaty with Sri Krishna devaraya
Third Governor, Nino De Cunha
In 1530, he shifted capital from Cochin to Goa
He killed Gujarat king, Bahadrushah
Contribution to India
1   Portuguese introduced new crops in India
Tobacco
Maize
Green Chilles
2   In 1556, they setup first printing press in Goa
English Bible is first printed book in the world
In India, they printed St. Peter Charita in Marathi language
3   They Promoted Christianity by Christian missionaries
Francis Xavier, Portuguese Evangelist converted 7 lakh people in Goa and Nagapatanam. His dead body persevered in Bom Jesus Basilica in Goa Church, its World Heritage site.
Decline of Portuguese  
Portuguese has monopoly over trade in India about 100 years.
In 1600's Portuguese were defeated by Mughals, Marathas and other foreigners
Shahjahan captured all Bengal settlements of Portuguese
Maratha's, Peeshwa Baji Rao I, caputured Sal Setty and Bassein in Maharasta




Portugues were left with only 3 settlements Goa, Diu and Daman. They maintained these 3 settlements till 1961.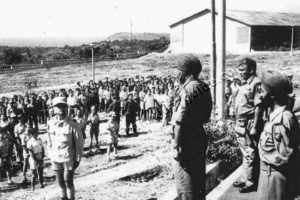 In 1961, Operation Vijay (military operation) , Portuguese forceably expelled and these areas were integrated into India
Thus Portuguese were First to come and Last to leave India.


Learn More
Test your subject knowledge with MCQ Test Papers(Indian History)- Click Here
Related Search:
First European To Reach India, advent of european, advent of portuguese in india,vasco da gama in india, vasco da gama route to india, vasco dagama 1498, vasco da gama discovery, decline of portuguese inindia, sea route from europe to india, first european to reach india,portuguese explorer vasco da gama, portuguese explorer europe to india, 1497 vasco da gama, who discovered the sea route to india, sea route to india was discovered by, portuguese trade in india, First European To Reach India, portuguese trade in india during the 16th century, first portuguese factory in india, portuguese colonies in india, trading centres of portuguese in india.